Goldenwest Announces New Payment Services Manager
OGDEN, UT: November 10, 2015 – Goldenwest Credit Union recently promoted August Klug to the position of Payment Services Manager.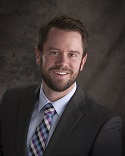 Klug started his Goldenwest career as a Fraud Investigator in October 2012, earning a promotion to Assistant Manager of Payment Services in August 2014. Prior to joining the Goldenwest team, Klug was employed for five years in the financial services industry. He earned a Bachelor of Fine Arts from Arizona State University in 2011.
The Payment Services Department has experienced rapid growth in recent years as online and mobile payment platforms have been quickly adopted by credit union membership. Klug's job duties include directing and managing fraud-related disputes, online payment products and Visa card development.
Published November 10, 2015