Ward Named New Branch Manager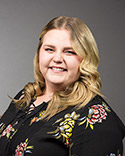 OGDEN, UT: June 3, 2020 – USU Credit Union recently promoted Courtney Griffiths Ward to the position of Business Development Manager of the North Logan office located at 555 East 1400 North in Logan. She will supervise all branch operations and business development.
Ward began her career at USU Credit in May 2016 and has worked as a teller, loan officer, and assistant manager.
Ward is a native to the Logan area and looks forward to helping her fellow Aggies with all their financial needs. In her free time, she enjoys traveling with her husband, spending time with family and frequenting Disneyland.
Published July 17, 2020