Savings Rates on the Rise
May 24, 2018
Goldenwest members are enjoying one of the strongest economies in the nation! If you're a saver, a robust economy is good news. The long drought of low deposit rates appears to be coming to an end, with dividends rising on certificates and money market accounts.
It's been more than a decade since Goldenwest offered a CD with guaranteed interest-rate growth for our members. I'm pleased to announce the Step-Up 36-Month CD is back, allowing members to earn higher dividends every 12 months of the term. This special rate begins at 2.00% APY for the first 12 months, the moves to 2.50% APY the second 12 months, and the jumps again to 3.00% the third 12 months.
If the Step-Up CD doesn't meet your short-term saving goals, take a closer look at our CDs with a one-time rate bump option. Or, try our 12-month Flex CD with a minimum $50 opening deposit, the ability to add money at any time, and the option to make penalty-free withdrawals once each quarter. The Flex CD rate recently increased to 1.60% APY for 12 months.
For maximum liquidity, our members also have the potential to earn high dividends in our share savings accounts. Our annual Bonus Dividend is paid on share savings primary shares, secondary shares, Christmas Club shares, and IRA shares. Over the course of 14 years, we have returned $11,225,000 to members through the Bonus Dividend program.
Keeping your deposits with Goldenwest helps drive the Utah economy. The funds you have deposit at our Credit Union are utilized by other members in our not-for-profit financial cooperative to start or expand local businesses (which helps create more jobs), build new homes across the state for our growing population, and pay for our young people to attend state colleges and universities.
Earlier this month we held a ribbon cutting and grand opening celebration for the Farmington branch. This new office is located one block north of Lagoon, and features our hybrid service model where members can receive personal attention from our financial services experts. Plus, you can experience new banking technology with our Personal Teller machines. This new office is a full-service branch providing deposit accounts, consumer loans, mortgages, insurance and much more. The Farmington branch is the Credit Union's seventh location in Davis County and 39th branch office in Utah.
Congratulations to our employee of the month, Julia Gonzalez. If you've taken advantage of discounted rates on Goldenwest insurance products, then Julia is one of our experts who has taken care of you. We appreciate all Julia does to help our members save money on their auto, RV, home, and umbrella insurance policies.
What a fabulous time to live and work in Utah, and to be a member of Goldenwest! We appreciate you support, and encourage you to take full advantage of your Credit Union membership.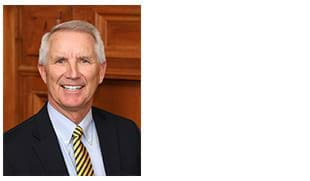 Kerry H. Wahlen
Email: president@gwcu.org
Twitter: @goldenwestcuceo