Brand Named New Branch Manager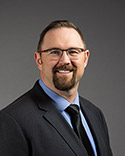 OGDEN, UT: July 2, 2020 – Goldenwest Credit Union is excited to welcome Jerry Brand to the position of Business Development Manager of the South Temple office located at 769 E. South Temple in Salt Lake City. Brand will supervise all branch operations and business development. He is looking forward to interacting and serving our members in the Salt Lake area.
Brand has been with Goldenwest Credit Union since August 2019. Before accepting the management position, he worked in the Training department. Prior to coming to Goldenwest Credit Union, he worked for the State Tax Commission and managed an Intermountain Homecare office. Brand graduated from Weber State University with a degree in accounting.
In his free time, Brand enjoys spending time with his family and enjoys both watching and playing basketball.
Published July 17, 2020