Campbell Named Assistant Vice President, Facilities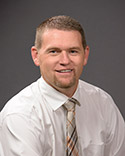 OGDEN, UT: October 12, 2017 – Goldenwest Credit Union recently promoted Butch Campbell to the position of Assistant Vice President, Facilities. His responsibilities include supervising new construction projects, building remodel projects, facilities maintenance, leases, property acquisitions, and managing the Facilities Department staff. Currently, the Credit Union has 40 branch and office locations from Logan to St George.
Campbell brings 18 years of experience in construction and facilities management to the position. He joined the Goldenwest team in 2014 as the Facilities Manager.
A Weber County native, Campbell holds a Bachelor of Science degree in Accounting from Weber State University and a General Contractors License. He specializes in commercial construction. In his free time he enjoys spending as much time possible with his family in the great outdoors.
Published October 12, 2017