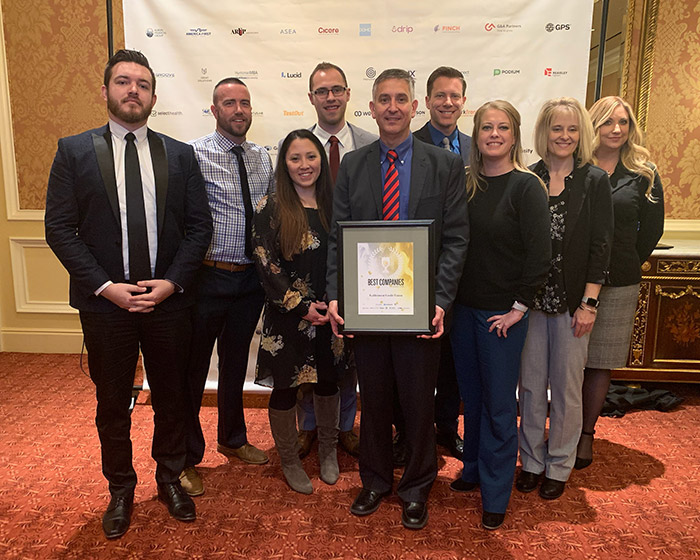 Goldenwest among Utah's "Best Companies To Work For"
OGDEN, UT: December 10, 2019 – Utah Business magazine, the state's leading business publication, presented Goldenwest Credit Union with the 2019 "Best Companies To Work For" award at a celebration luncheon held today in Salt Lake City. This is the third time Goldenwest has received this honor.
"It is critically important for us to build and cultivate an organizational ethos where employees can thrive both personally and professionally," stated Kerry H. Wahlen, Goldenwest President/CEO.
Although it is difficult to measure the exact return on the organization's robust benefit plan and strong corporate culture, Wahlen stated that the success is evident through the Credit Union's performance.
"You can't put a price on employee commitment and loyalty," continued Wahlen. "We are blessed to have a dedicated team of professionals who have embraced the Credit Union philosophy of 'people helping people.'"
Utah businesses were nominated and then judged in a variety of areas including employee benefit packages, corporate culture, career advancement opportunities, professional recognition, and community involvement.
The 83 year-old, Ogden-based credit union won the award in the category for large-sized companies with 501-2,500 employees. Hundreds of companies across Utah were nominated with the award, with 58 finalists being named "Utah's Best Companies To Work For" across the four category sizes.
Goldenwest Credit Union employs 700 people, serves more than 144,000 members, and operates 42 branches from Logan to St George.
Published December 10, 2019