Goldenwest Credit Union Named "Best of State"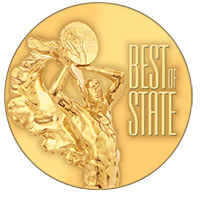 SALT LAKE CITY: May 1, 2020 - For the 11th time in 13 years, Goldenwest Credit Union has been named as Utah's "Best of State" winner in the credit union category.
"Goldenwest is Utah's home-grown credit union, with our history going back to 1936 when we were founded by Ogden's hardworking railroaders," stated Kerry H. Wahlen, President/CEO. "Today, we employ nearly 700 Utah citizens at our 42 branch offices from Logan to St George as we serve 145,000 members throughout the state."
Winners of the Best of State Awards were rated and judged on their impact on the community; excellence and achievement within their industry; and, innovation and originality. Winners will be recognized during the awards gala presentation in Salt Lake City on June 12, 2020.
Published May 1, 2020