Goldenwest Holds Annual Meeting and Announces Board Election Results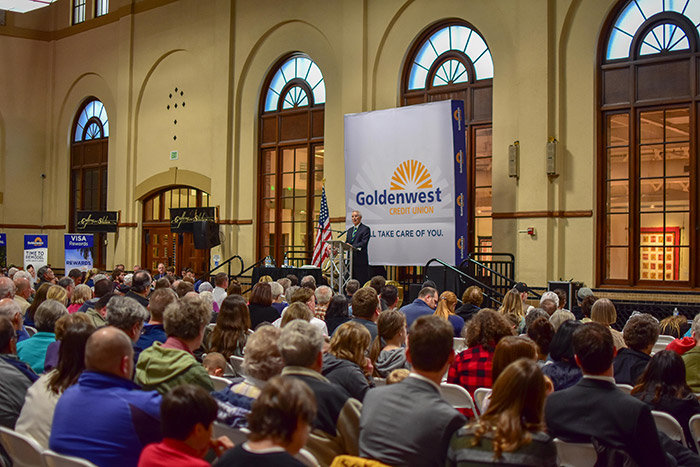 OGDEN, UT: April 10, 2019 – Goldenwest Credit Union released its 2018 Annual Report and announced the results of the recent Board of Directors election at their 83rd Annual Meeting on April 9th at Union Station in Ogden. During meeting, the membership listened to reports on the state of the Credit Union from Chairman Bill Hart, President/CEO Kerry Wahlen, Supervisory Committee Chair Rob Gebhardt, and Governance Committee Chair Tad Neuenswander.
Chairman Hart spoke about the Credit Union's financial success in 2018, including the $1.975 million year-end Bonus Dividend for members. He stated the Credit Union is well-positioned for continued growth and enhanced member service for years to come. During his remarks, invited Board Member Noé Vázquez to briefly address the audience via audio transmission from Baghdad, Iraq. Mr. Vázquez serves as an Aviation Officer in the Utah National Guard.
President Wahlen stated the Credit Union continues to experience solid growth and production, with assets growth nearing $1.7 billion and membership increasing to 140,000 in the past month. Among the Credit Union's many achievements in 2018 was the addition of Medicare enrollment services for members. Wahlen announced that Goldenwest will open its third branch in St George in July 2019, and has plans to build a branch in the Ogden Valley in the near future.
Mr. Gebhardt briefly described the fiscal responsibilities of the Supervisory Committee. In his report, he announced the Committee members had unanimously concluded that Goldenwest operates in a manner that upholds the Credit Union's high standards and interests. Gebhardt certified the financial statements presented in the 2018 Annual Report accurately portray the safety and soundness of the Credit Union.
Mr. Neuenswander reported the Credit Union had received four Statements of Qualification for the three open Board of Directors positions in the 2019 election. The nominees were Mr. Steve Carroll (incumbent), Ms. Karen Kagie, Mr. Dan Musgrave (incumbent), and Mr. Stoney Wayment (incumbent). Credit Union members had the opportunity to vote during the Board of Directors election held March 29 through April 1. Following Governance Committee report, Chairman Hart announced the membership had re-elected Mr. Carroll, Mr. Musgrave, and Mr. Wayment to serve on the Board of Directors.
Following the Member Business Meeting, the Board of Directors held a private session during which they elected Mr. Hart as Chairman, Mr. Brandon Hendrickson as Vice-Chair, and Ms. Jeanette Smyth as Secretary for the next 12 months.
Published April 10, 2019