Goldenwest Opens Branch in North Salt Lake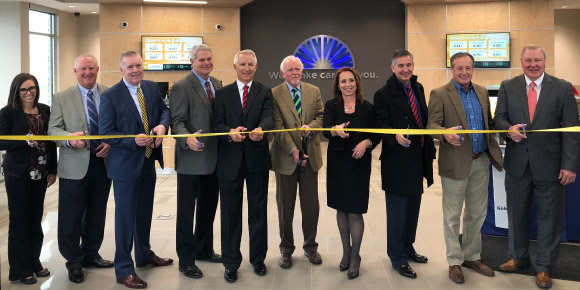 North Salt Lake, UT: November 29, 2018 – In celebration of their recently opened branch in the City of North Salt Lake, Goldenwest Credit Union held a ribbon cutting ceremony on November 28th. Located at 659 North Redwood Road, the new office is the Credit Union's eighth branch location in Davis County, and 40th branch office in the state of Utah.
"This branch location was strategically selected to better serve the rapidly growing residential areas and business districts in southern Davis County," said Kerry Wahlen, Goldenwest President/CEO. "Our members in the City of North Salt Lake and surrounding communities will now have greater access to the distinctive service they have come to expect from Goldenwest."
Board Chairman Bill Hart, Vice Chair Dan Musgrave, Director Steve Carroll, and several Credit Union officers, managers, and employees joined Wahlen to officially open the branch. The city of North Salt Lake Mayor Len Arave, Davis Chamber of Commerce President Angie Osguthorpe, and several members of the Davis Chamber Lakesiders enthusiastically welcomed Goldenwest to business community as part of the ribbon cutting ceremony.
Branch manager Bree Motta will oversee all branch operations, originate mortgages, and provide insurance services from the new office. Motta brings seven years of Goldenwest experience to the position, and most recently served members in her role as assistant manager at the Clinton office.
The new North Salt Lake branch offers a hybrid service model where members can receive personal one-on-one attention as well as experience new banking technology with a self-service Personal Teller machine. The Credit Union's staff is on-site to greet everyone who enters the branch and assist them with their transactions on the Personal Teller machine, or at traditional teller stations.
The office also features drive-thru teller lanes, a drive-thru Co-op Network ATM, and offers a full range of services including vehicle loans, mortgages, lines of credit, insurance, free checking, and instant-issue Visa cards.
Published December 7, 2018