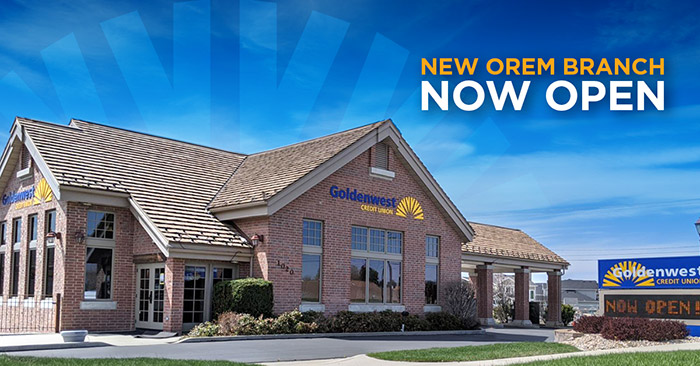 Goldenwest Opens New Branch in Orem
Ogden, UT: April 15, 2020 – Goldenwest Credit Union has opened a new branch located at 1200 East 800 North in Orem, near the mouth of Provo Canyon. The branch recently relocated from inside Ridley's Grocery Store on Center Street.
"Adding a full-service, free-standing branch in Orem will not only allow us to better serve our existing members, but also provide greater exposure for the Credit Union to local residents, businesses and patrons," said Kerry Wahlen, Goldenwest President/CEO. "We look forward to continuing our growth and contributing to the community."
The branch offers a variety of services including vehicle loans, mortgages, lines of credit, insurance, free checking, and instant-issue Visa cards. Auburn Zaudke has been selected to supervise all branch activity.
Due to the Covid-19 outbreak, the main lobby is temporarily closed. Branch transactions are available at the drive-up teller lanes during regular business hours. The drive-up ATM is available 24/7.
Published April 15, 2020