Nyman Promoted To Senior Vice President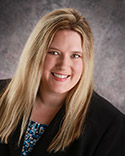 OGDEN, UT: August 14, 2020 – Goldenwest Credit Union recently announced the promotions of Carol Nyman to Senior Vice President.
Nyman began her career with USU Credit Union, a division of Goldenwest, more than 26 years ago as a teller. For two-and-a-half decades, Nyman has advanced through various positions and roles in New Accounts, Consumer Lending, IT Systems, Administration, and Operations. Since 2013, when USU Credit Union merged with Goldenwest Credit Union, Nyman has been a critical leader in the organization as Vice President of Operations.
In her new responsibilities as Senior Vice President, Nyman is deeply involved in strategic planning and oversite as it relates to Visa card growth, online and mobile payments, mobile app development, merchant services, and business services. She will continue her responsibilities in providing oversight for the Contact Center, Operations, Records, and Fraud Departments.
Nyman holds a Bachelor's degree in Business Information Systems from Utah State University. When away from the office, Nyman enjoys traveling, reading, and camping with her husband and their daughter.
Published August 17, 2020