Weaver Named New Branch Manager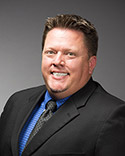 OGDEN, UT: June 26, 2020 – Goldenwest Credit Union is excited to welcome Jeremy Weaver to the position of Business Development Manager of the Daybreak office located at 3664 W. South Jordan Pkwy (10400 S.) in South Jordan. Weaver will supervise all branch operations and business development, and will originate mortgages.
Weaver is new to Goldenwest Credit Union as of May 2020. He has worked in the banking and credit union industries for over 17 years. He began his career as a teller and has since gained experience in commercial banking, mortgage services, and branch management. Before accepting the management position with Goldenwest Credit Union, Weaver worked for Chartway Federal Credit Union.
In his free time, Weaver enjoys spending time with his wife and three children, camping, boating, hiking and fishing. He also likes building things from wood or metal and occasionally working on cars.
Published July 17, 2020