Simply Platinum Credit Card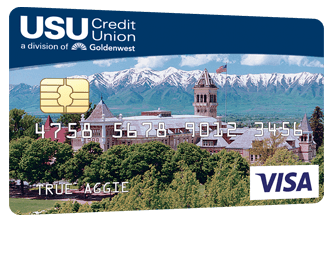 Without Cash Rebate
APR as low as
9.75%
Fixed Rate
With Cash Rebate
APR as low as
12.75%
Fixed Rate
If you're looking for the best fixed-rate credit card on the market, we have your Visa.
The Simply Platinum Visa from USU Credit Union features a low-fixed rate and no annual fee. Your options include a rebate program with up to one-percent cash back on qualifying purchases. Or, if getting the lowest possible rate is your top priority, choose the no-rebate option. And there is never a balance transfer fee.
Enjoy the purchase power and security offered by Visa combined with competitive rates, no annual fees and excellent service available from USU Credit Union. Plus, we offer competitive, member-friendly rewards program that offers ExtraAwards points for travel, merchandise and gift cards. Or, choose a rebate program featuring up to one-percent cash back. It's up to you!
Special Offer
0% Balance Transfers - Move your balance to any Goldenwest Credit Union Visa credit card with 0% interest for 6 months.
Learn how to transfer your balances from your mobile app or online here!
Please contact us at 1-800-283-4550 or speak with a branch representative for more details.
0% Fixed Annual Percentage Rate (APR) for the first six statement cycles on balance transfers during the promotional period defined as 01/01/23 through 03/31/23. After the initial six statement cycles, the remaining balance transfer amount will convert to the pre-determined rate determined by creditworthiness at account opening. The 0% balance transfer offer may not be used to pay any Goldenwest Credit Union, USU Credit Union or Healthcare Credit Union accounts.
Cash rebate program
Low fixed rate
No annual fee
No balance transfer fees
25-day grace period on purchases
Worldwide Acceptance at Retailers and ATMs
VISA protection
Features contactless technology for a fast, easy, and secure checkout.
The more you spend annually, the more you earn.
| Annual Spend* | Cash Rebate |
| --- | --- |
| First $10.00 to $1000.99 | 0.25% |
| Next $1001.00 to $2000.99 | 0.50% |
| Next $2001.00 to $3000.99 | 0.75% |
| Next $3001.00+ | 1.00% |
Features available with this card:
* Qualifying annual spend does not include purchase credits, cash advances, fees, interest charges, etc. Rebates are deposited into the primary member's savings account on an annual basis by February 28th.