Visa Signature Credit Card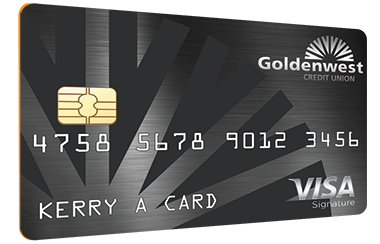 With 1.5% Cash Back
APR as low as
12.24%
Experience the Goldenwest Visa Signature Card
With the Goldenwest Visa Signature card, you will enjoy lots of Goldenwest credit card benefits plus extra perks like TSA pre-check reimbursement, 1.5% cashback on every purchase and best yet….there's no annual fee! This card is perfect for the smart traveler AND the smart shopper!
Special Offer
Earn 3% Cash Back on travel, fuel, and dining with the Goldenwest Visa Signature Card.
What's better than 1.5% cash back? How about 3% cash back! Make the most of your Signature card by earning double the cash back on any fuel, dining or travel purchases now through June 30, 2022.
Please contact us at 1-800-283-4550 or speak with a branch representative for more details.
*Earn 3% cash back on all travel, fuel and dining purchases made with your Goldenwest Signature Credit card from April 1, 2022 through June 30, 2022. Offer not valid on cash advances or balance transfers. Other conditions and eligibility requirements may apply. Merchant category codes include the following: 3000-3999, 4111, 4112, 4131, 4411, 4789, 4582, 4722, 4723, 7011, 7012, 5441, 5451, 5462, 5812-5814, 5542, 5541.
Earn 1.5% cash back on all purchases deposited quarterly
Low rate
No annual fee
No balance transfer fee
25-day grace period
Worldwide acceptance at retailers and ATMs
VISA protection
Features available with this card: