Class of '73: It's Time for Medicare
October 25, 2019
If you are among a large number of us who graduated from high school in 1973, it's time to seriously think about Medicare. As I approach the magic-Medicare age of 65, I've considered my personal healthcare needs and which Medicare supplemental plan provider will best suit me.
For each of us, there is a seven-month initial enrollment period for Medicare – three months before your 65th birthday, the month of your birthday, and three months following your birthday. As I talk to my fellow members from the Class of '73, I advise them to begin the enrollment process early to avoid delays in coverage.
Goldenwest Insurance Services has licensed Medicare Agents who meet with members in our branches to help them understand Medicare. Our agents carefully review the insurance supplemental plans from our top-rated carriers: United Healthcare; SelectHealth; and, Regence.
If you're over the age of 65 with an established Medicare plan, you should meet with our agents. There is a good possibility we can help you save money or get better coverage with one of our preferred carriers. Medicare experts are conveniently located in our Credit Union branches. Even better, our Medicare agents can make house calls at your request.
During the Medicare Open Enrollment period from October 15 through December 7, agents are meeting with members to review their current Medicare supplemental plans and review options for modifications. And, we are hosting free Medicare seminars at several branch locations for anyone to learn more about Medicare.
We hope you take advantage of this free member benefit to learn more about Medicare, and receive expert assistance in the enrollment process. To meet with one of our Medicare agents, contact Nate Murdock at 801-302-4020 or Sam Hart at 801-786-8043.
On a different note, I extend my gratitude to the local government and business leaders in St George for their warm welcome as we celebrated the opening of our third branch in their city. On October 18th, we held a ribbon cutting for the new office located on 120 East St George Boulevard in the heart of Washington County's financial district. We are thrilled to provide this new full-service branch to better serve our 6500 members who live in the area.
Finally, I'm pleased to announce that Goldenwest Credit Union was recently named one of "Utah's Best Companies to Work For" in 2019 by Utah Business magazine. As a leadership team, we are earnestly invested in the welfare and security of our employees. We have created a family-friendly culture that provides the means for employees to achieve a healthy balance in both their professional and personal lives. Supporting a positive and productive workplace is a key component of our success as a Credit Union.
As I engage with the skilled and ambitious employees across our organization, I'm confident the future will be prosperous for the members of Goldenwest Credit Union!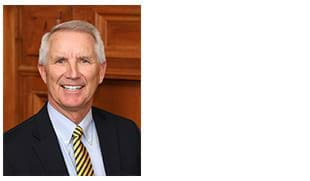 Kerry H. Wahlen
Email: president@gwcu.org
Twitter: @goldenwestcuceo