Is It Still A Good Time To Refinance?
May 1, 2019
With mortgage rates taking an unexpected dip in recent weeks, many members have asked me, "Is it still a good time to refinance my mortgage?"
With home values on the rise, and lower mortgage rates, it could be a great time to refinance. If your rate will decrease by one percent or more, and you plan on staying in the home for the foreseeable future, I encourage you to meet with our experts to determine if refinancing your mortgage aligns with your personal financial goals. It's likely that a lower rate will result in you paying less interest on the mortgage while earning equity in your home at an accelerated pace. Plus, you can save money upfront with Goldenwest's reduced origination fee of 0.50 percent.
Or, if you've been in your home for several years, consider refinancing to a short-term mortgage. We have great rates and quick turnaround times on 15-, 10-, 7- and 5-year mortgages. Even better, most short-term mortgages come with no closing costs and no PMI requirements.
Goldenwest recently invested in a new mortgage application platform that has greatly enhanced the online application experience. Members no longer need to walk into an office with a stack of documents to begin the mortgage process. Rather, they can upload scanned documents…or even photos of documents…into the online portal from the convenience of their PC or mobile device. And, many documents are good-to-go with a digital signature.
Our experienced, locally-based lending and underwriting team has streamlined its process to help approve and fund mortgages quickly. Many members are pleasantly surprised to learn that average turn-around time from application-to-funding is about three weeks.
If you didn't attend our 83rd Annual Meeting in April, take a few minutes to review the 2018 Annual Report. I hope you are pleased with the achievements of your not-for-profit financial cooperative. We will continue to do everything possible to earn your loyalty and support.
Congratulations to Directors Steve Carroll, Dan Musgrave, and Stoney Wayment who were re-elected to serve three year terms on the Board. Following the Annual Meeting, the Board met privately and elected Bill Hart as Chair, Brandon Hendrickson as Vice-Chair, and Jeanette Smyth as Secretary. I appreciate their willingness to serve our members in this essential capacity. I look forward to working together as we advance the causes of the Credit Union that are most important to our members.
Goldenwest has been named the 2019 Utah "Best of State" winner in the credit union category. This is the ninth year in the most recent eleven years that Goldenwest has received the medal. The credit union industry in Utah is among the strongest in the nation, and Goldenwest is honored to be recognized as "Best of State" in a field of so many worthy contenders. We were also named one of the Top 200 healthiest credit unions in the nation for the fifth consecutive year by DepositAccounts.com. If you're looking for a rewarding deposit opportunity, Goldenwest is currently offering a Certificate Special, with a 10-month term at 2.65% APY.
We place tremendous value on the concerns and support of our members. Goldenwest stands ready to help you achieve your financial goals and dreams. I look forward to your comments on my blog posts, and via email at president@gwcu.org
Thanks for giving us the opportunity to serve you.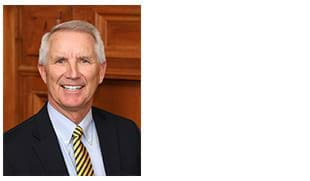 Kerry H. Wahlen
Email: president@gwcu.org
Twitter: @goldenwestcuceo