Goldenwest Announces New Vice President of Mortgage Business Development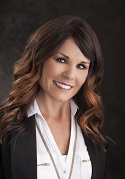 OGDEN, UT: November 9, 2015 – Goldenwest Credit Union is announcing Tonya Froerer has been promoted to Vice President of Mortgage Business Development. Goldenwest worked with Froerer to develop the new position in response to the increase in demand for an expanded portfolio of mortgage products and services. Her new responsibilities include ensuring the overall success and growth of mortgage programs, and leading originators in cultivating relationships with key industry players in the markets they serve.
Froerer's Goldenwest career spans 15 years serving in various roles across the organization. In 2006, she took the leadership role at the Roy office when she was named branch manager. Froerer received responsibility for additional branches and was promoted to the position of Assistant Vice President in 2012. In addition to consistently ranking among the top originators in the organization, Froerer manages the corporate office's flagship branch in South Ogden and supervises the operations at two additional offices. She serves on the Goldenwest loss mitigation committee, and is a master graduate of Rapport Leadership. For more than a dozen years serving in the mortgage lending industry, Froerer has helped many obtain the "American Dream" of home ownership.
Outside of work, Froerer focuses on her family as the mother of two young boys. When she has time for herself, she enjoys running.
Published November 10, 2015