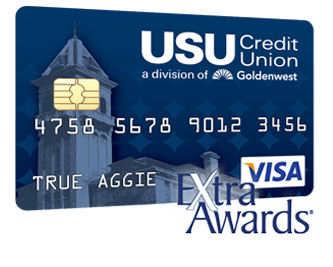 Without Rewards
APR as low as
6.99%
Variable Rate
With Rewards
APR as low as
7.99%
Variable Rate
Choose a USU Credit Union Visa Rewards credit card and watch your Extra Awards points add up quickly.
Every qualifying purchase gets you closer to attractive rewards such as travel rebates on airline tickets, hotel stays, and rental cars. Or choose gift cards to national restaurant chains and merchants. Perhaps you're just looking for a cash back option with your points? We have that too. Plus, save money with no annual fee and no balance transfer fee.
Enjoy the purchase power and security offered by Visa combined with competitive rates, no annual fees and excellent service available from USU Credit Union. Plus, we offer competitive, member-friendly rewards program that offers ExtraAwards points for travel, merchandise and gift cards. Or, choose a rebate program featuring up to one-percent cash back. It's up to you!
Special Offer
Earn 2X Extra Awards Points on travel purchases with the USU Credit Union Visa Rewards Credit Card
Please contact us at 1-800-283-4550 or speak with a branch representative for more details.
*Earn double Extra Awards points on qualifying travel related purchases with the USU Credit Union Visa Rewards credit card from 7/1/2021 to 9/30/2021. Qualifying travel related purchases include the following merchant category codes; 5542 Automated Fuel Dispensers, 5541 Services Stations (with or without Ancillary Services), 3000-3300 All Airlines, 3351-3441 All Rental Car Agencies, 4111 Local and Suburban Commuter Transportation/Ferries, 4112 Passenger Railways, 4131 Bus Lines, 4411 Steamship and Cruise Lines, 4511 Airlines and Air Carriers (not elsewhere classified), 4582 Airports, Flying Fields, Airport Terminals, 4722 Travel Agencies, 4723 Package Tour Operators -Germany, 4789 Transportation Services (not elsewhere classified), 7011 Lodging (not elsewhere classified), 7012 Timeshares, 7032 Sporting and Recreational Camps, 7033 Trailer Parks and Campgrounds, 7512 Automobile Rental (not elsewhere classified). Other conditions and eligibility requirements may apply.
Low variable rate
No annual fee
No balance transfer fees
25-day grace period on purchases
Worldwide Acceptance at Retailers and ATMs
VISA protection
Features contactless technology for a fast, easy, and secure checkout.
Features available with this card: