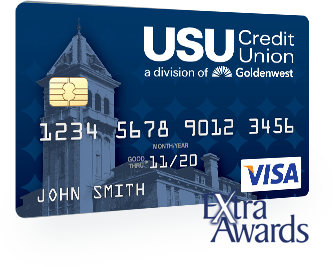 Without Rewards
APR as low as
7.99%
Variable Rate
With Rewards
APR as low as
8.99%
Variable Rate
Choose a USU Credit Union Visa Rewards credit card and watch your Extra Awards points add up quickly.
Every qualifying purchase gets you closer to attractive rewards such as travel rebates on airline tickets, hotel stays, and rental cars. Or choose gift cards to national restaurant chains and merchants. Perhaps you're just looking for a cash back option with your points? We have that too. Plus, save money with no annual fee and no balance transfer fee.
Enjoy the purchase power and security offered by Visa combined with competitive rates, no annual fees and excellent service available from USU Credit Union. Plus, we offer competitive, member-friendly rewards program that offers ExtraAwards points for travel, merchandise and gift cards. Or, choose a rebate program featuring up to one-percent cash back. It's up to you!
Special Offer
Earn 3X Extra Awards points on online, mobile wallet and recurring payments throughout October 2017. In addition, for every qualifying purchase with your Visa Rewards card on Amazon.com during the October 2017, you will be entered into a drawing to win one-of-five Echo Dots.
Please contact us at 1-800-248-6361 or speak with a branch representative for more details.
Low variable rate
No annual fee
No balance transfer fees
25-day grace period on purchases
Worldwide Acceptance at Retailers and ATMs
VISA protection
Features available with this card: