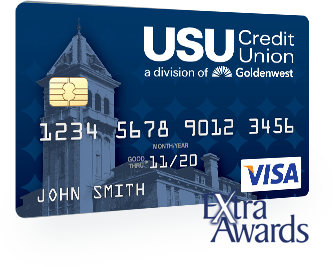 Without Rewards
APR as low as
9.24%
Variable Rate
With Rewards
APR as low as
10.24%
Variable Rate
Choose a USU Credit Union Visa Rewards credit card and watch your Extra Awards points add up quickly.
Every qualifying purchase gets you closer to attractive rewards such as travel rebates on airline tickets, hotel stays, and rental cars. Or choose gift cards to national restaurant chains and merchants. Perhaps you're just looking for a cash back option with your points? We have that too. Plus, save money with no annual fee and no balance transfer fee.
Enjoy the purchase power and security offered by Visa combined with competitive rates, no annual fees and excellent service available from USU Credit Union. Plus, we offer competitive, member-friendly rewards program that offers ExtraAwards points for travel, merchandise and gift cards. Or, choose a rebate program featuring up to one-percent cash back. It's up to you!
Special Offer
Spend to win $1,000 SHOPPING SPREE when you make purchases* with your USU Credit Union Visa Rewards Credit Card!
Please contact us at 1-800-283-4550 or speak with a branch representative for more details.
*Two separate contests will occur, one for each calendar month of the contest (July, August 2019). Earn one entry for every 20 qualifying transactions during each calendar month of the contest. Qualifying transactions require a minimum $20 purchase during the calendar month of the contest. Valid on Goldenwest or USU Credit Union Visa Rewards credit cards, including The Aggie Card. Winners will be announced on or about 10 days after the calendar month concludes. No purchase necessary. Mail-in entries will be accepted for U.S. residents ages 18 and older at Payment Services, Attn: Back to School Shopping Spree, PO Box 1111, Ogden, UT 84402. Include name, mailing address, email, phone number and birth date. Limit five mail-in entries per person.
Low variable rate
No annual fee
No balance transfer fees
25-day grace period on purchases
Worldwide Acceptance at Retailers and ATMs
VISA protection
Features available with this card: