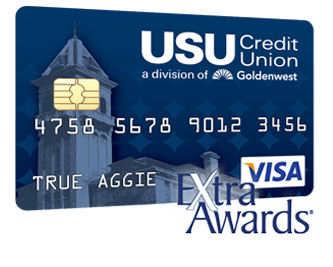 Without Rewards
APR as low as
6.99%
Variable Rate
With Rewards
APR as low as
7.99%
Variable Rate
Choose a USU Credit Union Visa Rewards credit card and watch your Extra Awards points add up quickly.
Every qualifying purchase gets you closer to attractive rewards such as travel rebates on airline tickets, hotel stays, and rental cars. Or choose gift cards to national restaurant chains and merchants. Perhaps you're just looking for a cash back option with your points? We have that too. Plus, save money with no annual fee and no balance transfer fee.
Enjoy the purchase power and security offered by Visa combined with competitive rates, no annual fees and excellent service available from USU Credit Union. Plus, we offer competitive, member-friendly rewards program that offers ExtraAwards points for travel, merchandise and gift cards. Or, choose a rebate program featuring up to one-percent cash back. It's up to you!
Special Offer
Earn 2x Extra Awards Points
Earn 2X Extra Awards Points- with the Rewards Visa Credit Card you will earn double Extra Awards points on home improvement purchases.
Please contact us at 1-800-283-4550 or speak with a branch representative for more details.
Earn double Extra Awards points on qualifying home improvement related purchases with the Goldenwest Visa Rewards credit card from 4/1/2021 to 6/30/2021. Qualifying home improvement related purchases include the following merchant category codes; 5198 Misc. Industr./Commerc. Supplies, 5211 Building Materials, 5200 General Retail & Wholesale, 5251 General Retail & Wholesale, 5199 Non-durable Goods Not Elsewhere Classified, 5231 Glass Stores, 5231 Paint and Wallpaper Stores, and 5231 Wallpaper Stores. Other conditions and eligibility requirements may apply.
Low variable rate
No annual fee
No balance transfer fees
25-day grace period on purchases
Worldwide Acceptance at Retailers and ATMs
VISA protection
Features contactless technology for a fast, easy, and secure checkout.
Features available with this card: