Top-Rated Mobile App
September 6, 2019
What are your favorite apps? The average adult has more than 60 apps installed on their smartphone, using around 30 of them each month and launching nine apps per day.
The USU Credit Union mobile banking app is among my most-used apps, and has quickly become my favorite tool for managing daily finances. It's easy to check balances, transfer funds, pay bills, and send money to another person with the app. The card controls function comes in handy when I travel, and the mobile deposit feature allows me to deposit checks from home.
I'm pleased to announce the app has new functionality for opening accounts. In three easy steps, members can open and fund checking accounts, certificates, money market accounts, and additional savings accounts. For members who prefer managing their finances on a desktop or laptop computer, the new accounting opening platform is also within online banking.
Not a USU Credit Union member yet? I have great news! We now have complete online membership applications on our website. After completing the quick online application process, you will receive a follow-up phone call from one of our online account opening specialist to verify your information and identity.
If you have a loan or credit card balance at another financial institution, you can go into the USU Credit Union mobile app and transfer that balance to USU Credit Union Visa card through the new "photo balance transfer" feature. It's as easy as submitting a photo of your loan statement for approval.
Sending your friends and family money through the app recently became a better experience with the updates to the pay-a-person feature. Members can now set-up payees within the app in a matter of seconds with their payee's mobile number.
I tell members who are worried about fraud on their Visa cards to use Card Controls in the mobile app. Card Controls is among our most popular mobile options, granting you access to temporarily enable/disable your Visa cards and set-up travel notifications.
But our most most-used feature on the mobile app is viewing account balances. In a single month, account balances are looked at nearly 1.3 million times by our members on the app. With this high-level of engagement, it's plain to see that the mobile app is a powerful tool that keeps you connected to your money!
If you're a fan of the mobile app, give us a rating and review in the Apple App Store and on Google Play for Android. If you aren't using the mobile app, or don't have the most recent app update, visit this site to install it on your phone. Should you have questions about accessing your account with the mobile app, call our Member Contact Center. In most cases, it takes less than five minutes to gain access to your account on both our online and mobile banking platforms.
For our members who continue to appreciate the personal in-branch experience, we are excited to announce that our third branch in St George will be opening before the end of September. Our new location is in the heart of Washington County, at 120 St George Boulevard. Construction is progressing well for our new Weber County branch, with a beautiful setting in the Ogden Valley. These two locations will be our 41st and 42nd branch offices.
Before I sign off, I wish to share one more financial tip: If you haven't thoughtfully considered your mortgage rate and balance recently, contact one of our mortgage originators and set an appointment to review your mortgage pay-down strategy. With dropping mortgage rates and higher home values, you could save thousands of dollars of interest with a lower rate and/or shorter term.
Thanks for your continued support and confidence in the Credit Union. It's our pleasure to take care of you!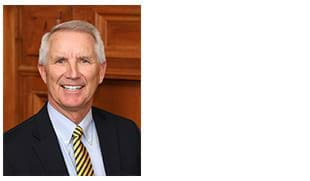 Kerry H. Wahlen
Email: president@gwcu.org
Twitter: @goldenwestcuceo